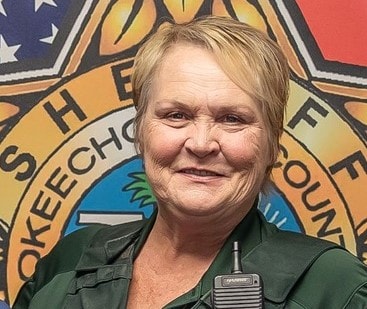 In 2002, Sergeant Cari Rucks Arnold was a stay-at-home, enjoying her life taking care of her two kids, Daryl Joy and Royce. However, she felt at times that she wanted to get out into the community and give back somehow. So that year she decided to apply to become a dispatcher with the
Okeechobee County Sheriff's Office
(OCSO). Her father, Gary Rucks, remembers the day Cari told him she was applying. He said, "it was one of the proudest moments in my life. Both my father and brother were in law enforcement and I knew she would do well." It was no surprise to him that she chose this career path as "she always put other peoples' needs before her own. She has always wanted to help others. It was that simple."
While Sergeant Arnold joined the OCSO as a dispatcher, that role did not last long. She was quickly spotted as someone that would be better utilized elsewhere in the department. She recalls Sheriff O.L. Raulerson approaching her on a Wednesday after she had been in dispatch for only a few short months. He told her that he would like for her to consider a position on their Corrections team. Initially, she was hesitant. "Who dreams about working in a jail," she recalls thinking. But she appreciated his confidence in her abilities and took him up on the offer. The following Monday she was enrolled in the Corrections Academy and has never looked back. She appreciates every moment she spent in corrections and continued to position herself to be a positive impact on the department and the community.
Sergeant Arnold was promoted to School Resource Officer (SRO) Sergeant in 2018, overseeing all SRO responsibilities in Okeechobee County. She loves this role because, as she says, "it gives me the opportunity to create positive interactions between kids and law enforcement. I need them to know that we are here to help them whenever they need us. Nothing could be more important than their safety and security." This passion does not stop when she is off the clock. Major Michael Hazellief has worked with Sergeant Arnold for nearly 20 years. He believes, "Sergeant Arnold is a true public servant. She serves her community both on and off duty and works hard to ensure the safety of our children." She works tirelessly in her personal time as a leader in the Okeechobee Fraternal Order of Police. Through events like the Independence Day Celebration, Shop with a Cop, and photos with the Grinch and Santa, she spends nearly every waking moment serving our community.
Okeechobee is blessed to have you protecting our children, Sergeant Arnold. You truly are a Hometown Hero!